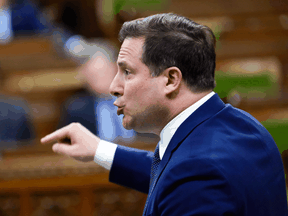 Article content
Canada's Public Safety Minister Marco Mendicino says the federal Conservatives are to blame for legislative delays on handguns that have led to a backlog of firearm registrations.
Article content
In May, Ottawa introduced a bill that proposes freezing handgun sales and transfers, a move slammed at the time by Alberta's chief firearms officer as an "intrusion" into the lives of gun owners. It also led to a spike in handgun sales, and, according to the Alberta government, a bottleneck in transfer and license applications that has in ballooning wait times.
In a July 21 news release, Alberta Justice Minister Tyler Shandro said the federal government had done Albertans and firearms owners "a great disservice."
The provincial ministry said the dramatic increase in purchases across the country was predictable, but the federal government did nothing to ensure the Canadian Firearms Program could handle a flood of new applications sent to the national processing center in New Brunswick.
Article content
In a Tuesday interview with Postmedia during a trip to Edmonton, Mendicino said the federal government anticipated a potential increase in handgun purchases following the announcement. However, he argued that if the Conservative Party of Canada caucus had been on board to pass the bill and its regulations more quickly, that would have put a stop to new permits and any backlog.
"If we had unanimous consent, and if we had gotten the Conservatives on side to pass just the regulations, we could have mitigated against some of the spike in sales, but there was no appetite. None. And that's unfortunate," he said, urging his fellow MPs to support the bill when the House of Commons returns on Sept. 19.
Federal Conservatives have supported some but not all measures in the bill, and have proposed the legislation be split. This would allow some measures, like "red flag" laws that give courts or firearm officials the power to suspend or remove an individual's right to a firearm, along with more severe penalties for gun smuggling, to pass quickly, while other more contentious elements of the bill would be debated.
Article content
After a Conservative motion was defeated in June, a joint statement from Raquel Dancho, Conservative public safety critic, and Pierre Paul-Hus, public services and procurement critic, accused Prime Minister Justin Trudeau's Liberals of caring "more about headlines and demonizing Canada's sport shooters than keeping our communities safe from gun violence."
Dancho's office did not immediately respond to a request from Postmedia for comment Friday.
The bill passed second reading before the House of Commons rose for summer recess. Mendicino said his top priority is working to reduce gun violence, and one way to do that is to pass the regulations and Bill C-21 into law.
"We owe it to the survivors, we owe it to the victims, to not be shackled by complacency and so we need to keep pushing and we are going to do that," he said, adding the legislation has the broad support of Canadians.
Article content
"It is not a foolproof strategy, it will not guarantee that there will never be another gun crime committed in this country, but it will help and that's what law enforcement has said, and that's what others have said."
The province said the looming change in federal legislation has meant Alberta's Chief Firearms Office is seeing a 40 per cent increase in emails inquiring about the status of a firearms license application or transfer request.
Teri Bryant, the chief firearms officer, said in a news release her office is doing all it can to help work through the inquiries.
"But there is only so much we can do without the full co-operation and preparedness of our federal counterparts," she said.
Mendicino was in Edmonton to discuss the overrepresentation of Indigenous people in the criminal justice system, meet with the REACH Edmonton Council for Safer Communities, visit the Stan Daniels Healing Centre, and participate in mass led by Pope Francis at Commonwealth Stadium.
Article content
He noted the federal government's $250-million Building Safer Communities Fund, which aims to help prevent gun violence with grants for municipal efforts, will see an accelerated rollout. He also promised an upcoming announcement in Edmonton, though did not provide details.
Mendicino said the Liberal government respects responsible hunters, gun owners and recreational sports shooters, but it makes sense to put a handgun freeze in place. According to recent numbers from Statistics Canadahandguns have become "the most serious weapon present in the majority of firearm-related violent crimes."
"The status quo will not work," Mendicino said.
Related Posts